My repertoire includes traditional music and folklore from Latin America as well as well-known classics and current Spanish language chart hits. Together we will select an individual program for your event, which is perfectly tailored to your wishes and needs.
In terms of classical music (opera) I will enchant your event with the most famous arias such as O Sole mio, Nessun Dorma, Granada, la Paloma, la Traviata, Brindisi, etc.
"The outstanding voice of Alessandro Galas, who has been rediscovered because of his wonderful baritone voice accompanied by his guitar, will leave everyone astonished and feel goose bumps."
Traditional Music & Folklore
La Bamba
Volare (Gipsy King)
Bamboleo (Gipsy King)
Djobi Djoba (Gipsy King)
Bailame (Gipsy King)
Viva España - Manolo Escobar
Guantanamera (Celia Cruz)
La Vida Es Un Carnaval (Celia Cruz)
Quizás Quizás (Buena Vista Social Club)
Chan Chan (Buena Vista Social Club)
María Isabel
Porompompero
Lambada (Kaoma)
Fogo e Paixao (Wando)
La Cucaracha
Qué Será, Será (Doris Day)
Qué Será (José Feliciano)
Desperado (El Mariachi)
Cielito Lindo
Bésame Mucho (Consuelo Velázquez)
Amor Amor
La Malagueña
Cucurrucucu Paloma
La Paloma (Sebastian Iradier)
Granada (Agustín Lara)
Cuando Calienta El Sol (Luís Miguel)
El Cuarto De Tula
1 2 3 María (Ricky Martin)
La Pollera Colora
Mi Cafetal
Perfidia
Volver Volver
Quién Será La Que Me Quiere A Mi
Suavemente (Elvis Crespo)
Christmas Songs:
Feliz Navidad
El Tamborilero - Raphael
Ding Dong Llegó Navidad
Faltan 5 para las 12
Stille Nacht - (Joseph mohr / Franz Xavier Gruber)
Modern & Charts
Señorita -Shawn Mendes
Rojo - j balvin
Tusa - karol G
Despacito (Luís Fonsi)
Ai Se Eu Te Pego (Michel Teló) Nossa Nossa
Duele El Corazón (Enrique Iglesias)
Súbeme La Radio (Enrique Iglesias)
Echame La Culpa (Luís Fonsi)
Súbeme La Radio (Enrique Iglesias)
Duele El Corazón (Enrique Iglesias)
Bailando (Enrique Iglesias)
La Camisa Negra (Juanes)
Corazón Espinado (Maná & Santana)
Rayando El Sol (Maná)
Mariposa Traicionera (Maná)
Lamento Boliviano (Enanitos Verdes)
Corazón (Maluma)
Felices Los 4 (Maluma) (Salsa Version)
Déjala Que Vuelva (Piso 21 & Manuel Turizo)
Una Lady Como Tú (Manuel Turizo)
Besáme (Manuel Turizo)
Robarte Un Beso (Carlos Vives)
Hey DJ (CNCO & Yandel)
Ay Mi Dios (Yandel)
Fuíste Tú (Ricardo Ajona)
Vivir Mi Vida (Marc Anthony) (Salsa Version)
La Mordidita (Ricky Martin)
El Perdon (Nicky Jam)
Estoy Enamorado (Donato y Estefano)
Una Canción De Amor (Gianmarco)
Classic Music (Opera) ES & IT
O solé mio - (Eduardo di Capua)
La donna e mobile - (Giuseppe Verdi)
La Traviata - (Giuseppe Verdi)
Granada (Agustín Lara)
La Paloma (Sebastián Iradier)
Nessun Dorma - (Giacomo Puccini)
Aranjuez - (Joaquin Rodrigo)
Besame Mucho - (Consuelo Velazquez)
Con te partiro - (Francesco Sartori)
Va Pensiero - (Nabucco de Giuseppe Verdi)
Torna a Surrriento - (Ernesto de Curtis / Giambattista de Curtis)
Ave Maria - (Gounod)
Mattinata - (Ruggero Leoncavallo)
Grande Amore - (Il Volo)
La Malagueña
Cucurrucucu Paloma - (Tomas Mendez Sosa)
Cielito Lindo - (Quirino Mendoza)
Condor Pasa - in Quechua, Guarani und Spanisch (Julio de la Paz / Daniel Alomia)
I'm always happy to support you at your event! Schedule a Phone call.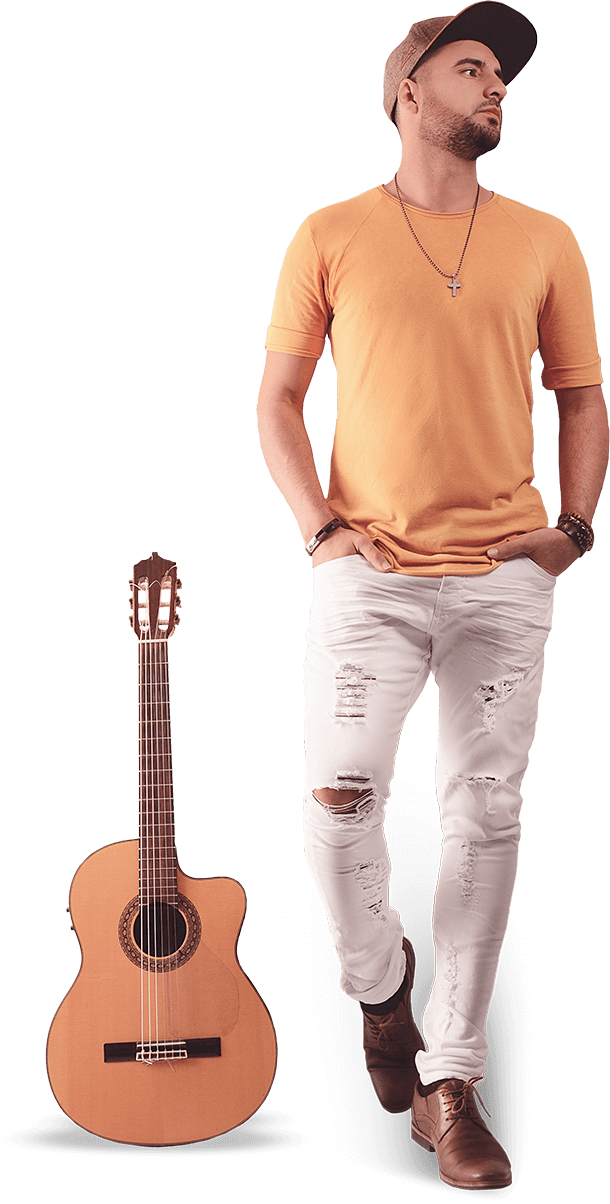 Keep on dreaming, keep on fighting and never give up – that's the message that Alessandro Galas' first single "Sigue Luchando" is advertising and at the same time it describes the musician's very own story.
Born and raised in Paraguay, youngest son of a Paraguayan mother and a German father, Alessandro has always been a big dreamer and at the same time very passionate about music ...